Introduction
You need a website to start your business online.  To make your website more secure , you need to have a secured hosting provider.   Let's assume, you are running a digital marketing agency. You need to help other businesses gain leads . For that, you need to have a website. Your website files need to be stored on the web server in order to display them to the users on the browser. There are various types of hosting packages available.
But, you need to know why I am telling this to you. Let me assume, you have a website already (In WordPress CMS) . You are facing contact form 7 issues. In order to resolve contact form 7 issues, you need to register with a trustable and more secure hosting provider.  The best Hosting provider for websites built with wordpress needs to have a php mail function feature.
What Happens to Your Contact Page?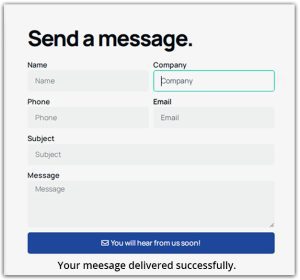 While a user sends a proposal message or query in your contact form box, the popup can show " Your Message Was Sent Successfully. " But, in reality , you, as an admin, don't receive the message in your inbox. 
Prerequisites to Solve This Issue
The solutions we provide here, will be applicable for the websites built with wordpress only.
So, you need to have the following prerequisites. They are
Websites Built With WordPress

You are using Contact Form 7
The Reasons for Having This Issue
There are  two reasons behind this issue. They are
The sender uses fake email address to spoof you

Your Hosting Provider does not have php mail function
How We Can Solve This Issue To You
You Can contact us online by clicking here. We are India's Top Web Hosting Provider. We provide technical support to the businesses who  want to move their business online. In terms of Providing Hosting Plans, that will help you to have a safer website, that means, you have more security and can escape from the hackers.  Based on your business, we offer three types of hosting plans.
They are
VPS Hosting Package – Suitable for Larger businesses 

Linux Hosting Package – Suitable for Online Service based businesses

Shared Hosting – Suitable for Small Sized Businesses

Dedicated Server – Suitable for the SaaS based businesses
Our Other Services
We tend to help you to run online businesses. So, we have web designing services, domain and hosting services. If you are a larger organization, you might want Google Workspace products in order to run your business completely online from anywhere in the world. It is applicable for remote and hybrid based businesses too. 
From Google Workspace Business Apps, you can communicate and schedule events and assign tasks, create content, marketing plan within your organization and outside your organization.
Wonder how to contact us? We are just a tap away.