WordPress Plugins: Introduction
WordPress Plugins: We have discussed the importance of wordpress sites for business for a couple of days.  We have already mentioned top 4 plugins for wordpress.  Email is the premium way to connect with your target audience. Most of the new-age startup founders think email marketing might be outdated in the age of chatbots. But, you're mistaken, my dear friend.
Why is Email Marketing Still Powerful?
Email marketing is still powerful because of its potential usage by professionals. In that case, Constant Contact is a handy wordpress plugin that can be used to collect email subscribers and turn them into email leads which can turn them into your paid customers.
Constant Contact connects your target audience with you and lets you send regular email newsletters to your target audience.
Landing Page Plugin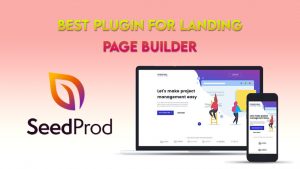 You can ask any SaaS startup founder about importance of having a landing page for their website. If you have any ideas on starting a SaaS startup,  you probably never neglect  Seedprod  ,one of the efficient wordpress plugins to create a landing page with the easier feature of drag and drop tool.
BYJU'S Alternative 
If you have an online course (edtech) idea to build and transform the society to the next level with wordpress, you would love Memberpress plugin . Memberpress wordpress plugin can enable you to build online course sites, online subscription sites and so on.
Are you ready to become the next BYJU'S?   Just watch this tutorial.
Speed As the SEO Factor
You know, SEO is the just mirror of people(user)'s behaviour with your site pages. Am I right? According to me, your site's speed should be more faster than your competitors.  WP Rocket  is the essential plugin that can be used as a caching plugin for any type of wordpress website.  It can enable your site speed much faster.
Have A Project in Mind?
We, at Navo Hosting deliver you the best web designing service and provide some additional offer for you with Google Workspace plans.
Want to connect with us? just tap here.