Business organizations send business emails to their clients. Gmail is included in the google workspace suite. The same content is sent to many clients. Send the same content to many clients is difficult. Mail Merge has applications for sending personalized email messages, newsletters, and announcements. When sending a message each recipient gets a unique copy of the mail. The mail merge option replaces multi-send mail. Mail merge personalizes messages with merge tags. One can also link a spreadsheet that contains the contact information to send messages to large recipients.
Working on Mail Merge in Gmail
Turn on the mail merge to send messages to many clients. Gmail sends a unique copy to each recipient individually. When the recipients open the message they can't check who sent the message. If anyone replies to the message, you get the replies in separate threads. If you need to send emails to multi-users, link a spreadsheet. Mail merge consists of unsubscribe links for each recipient by default. Users unsubscribed from your e-mails are removed from your future mail merge mails.
How to add recipients directly to your message?
Use the below steps to add the recipients directly to your email message. Include recipients individually in this option.            
Open Gmail on your computer.

Click Compose.

(

You can also open an existing draft).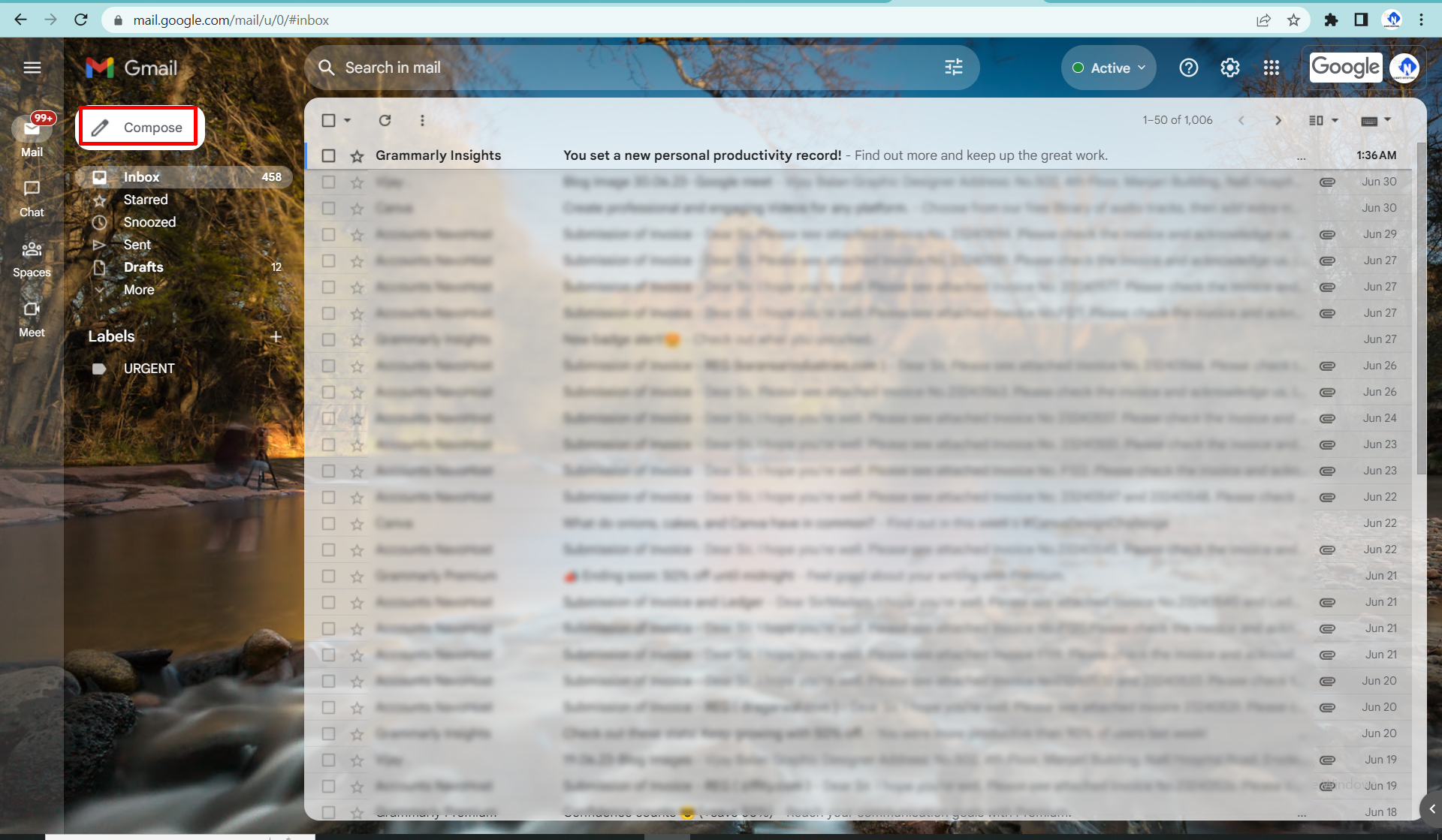 Go to the "To:" line in the inbox.

Enter the mail address.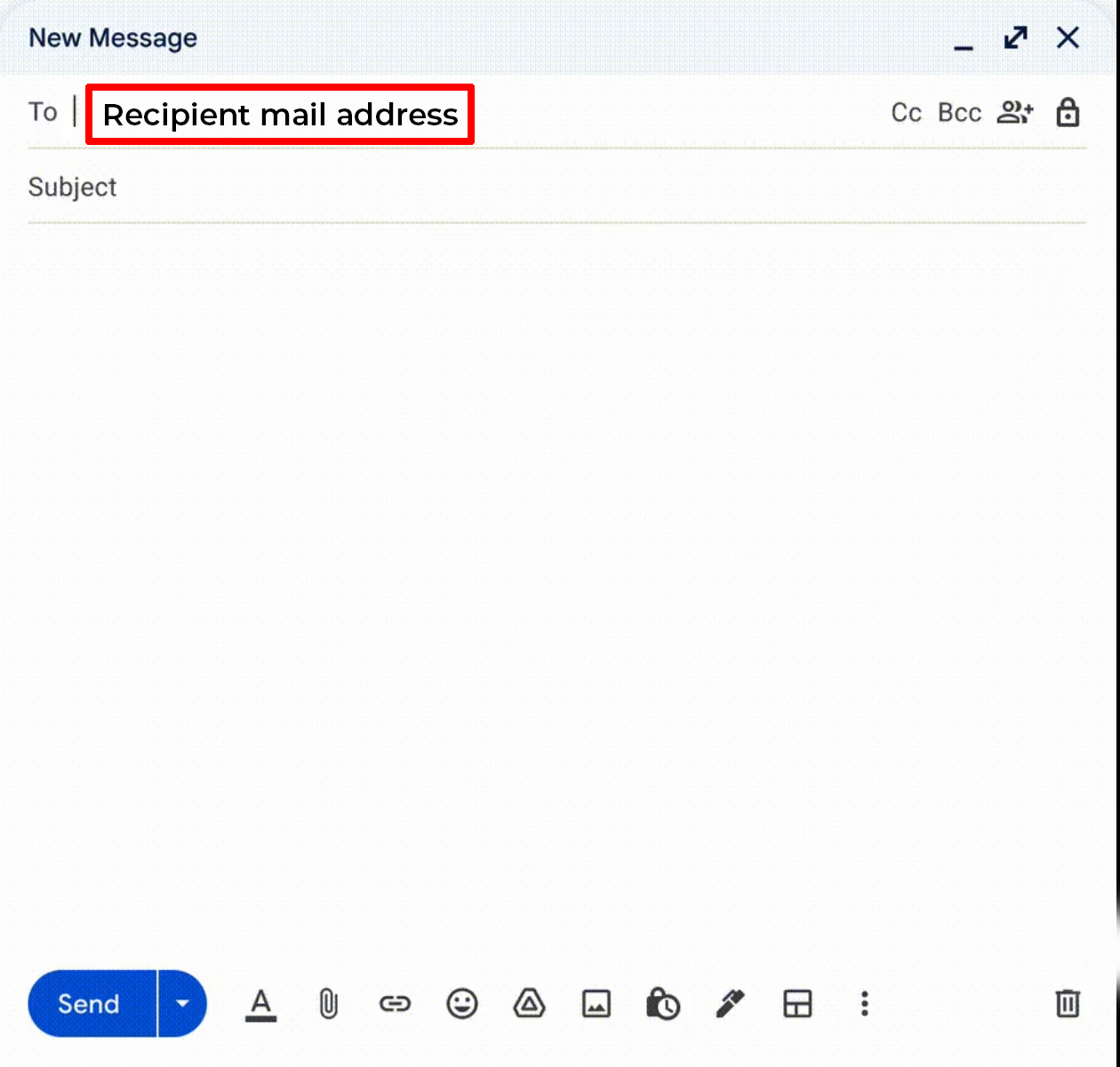 Hit the Use Mail merge icon.

Select the Mail merge option.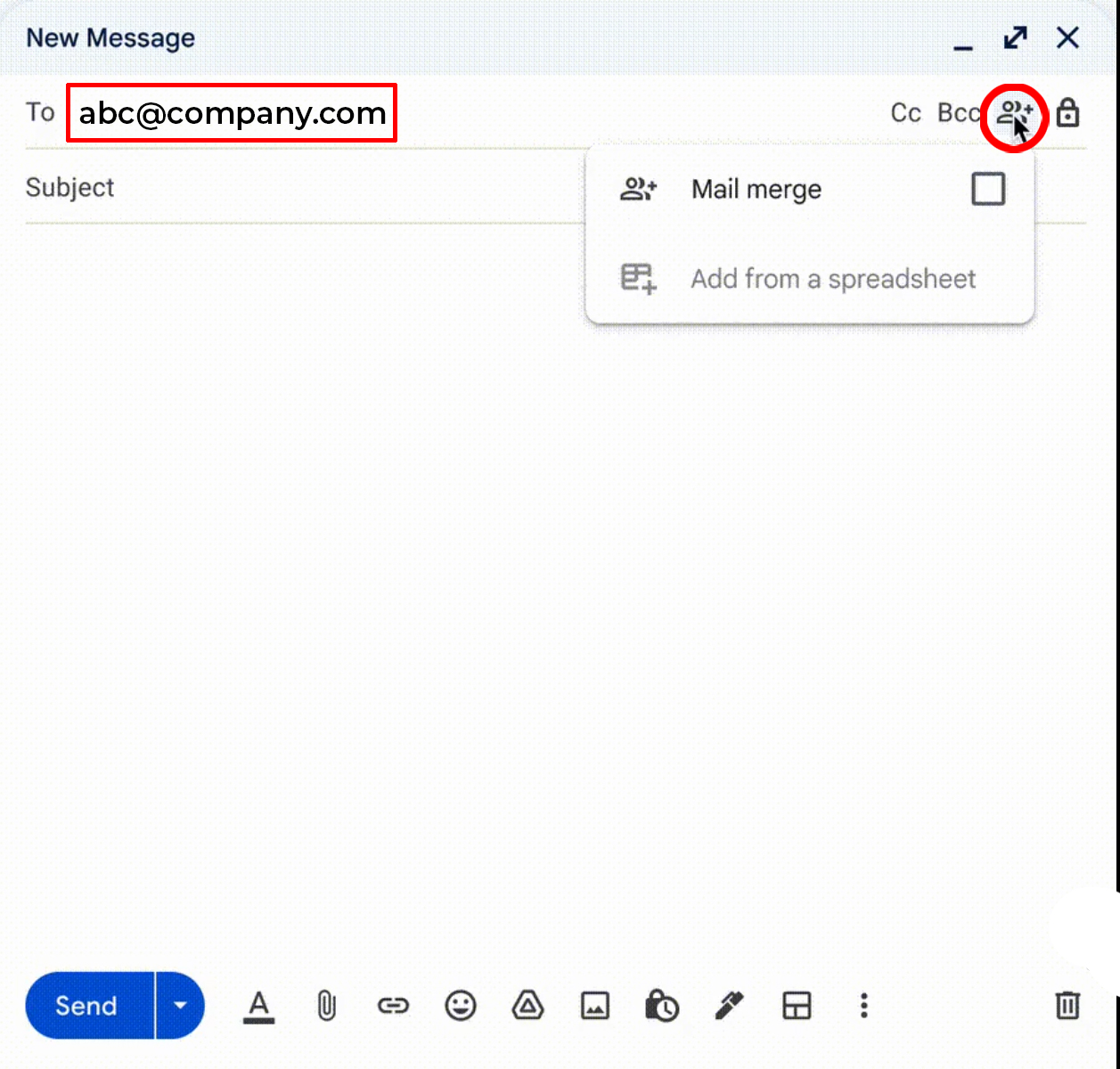 Turn on the Mail merge tickbox.

Add a subject and content in the inbox.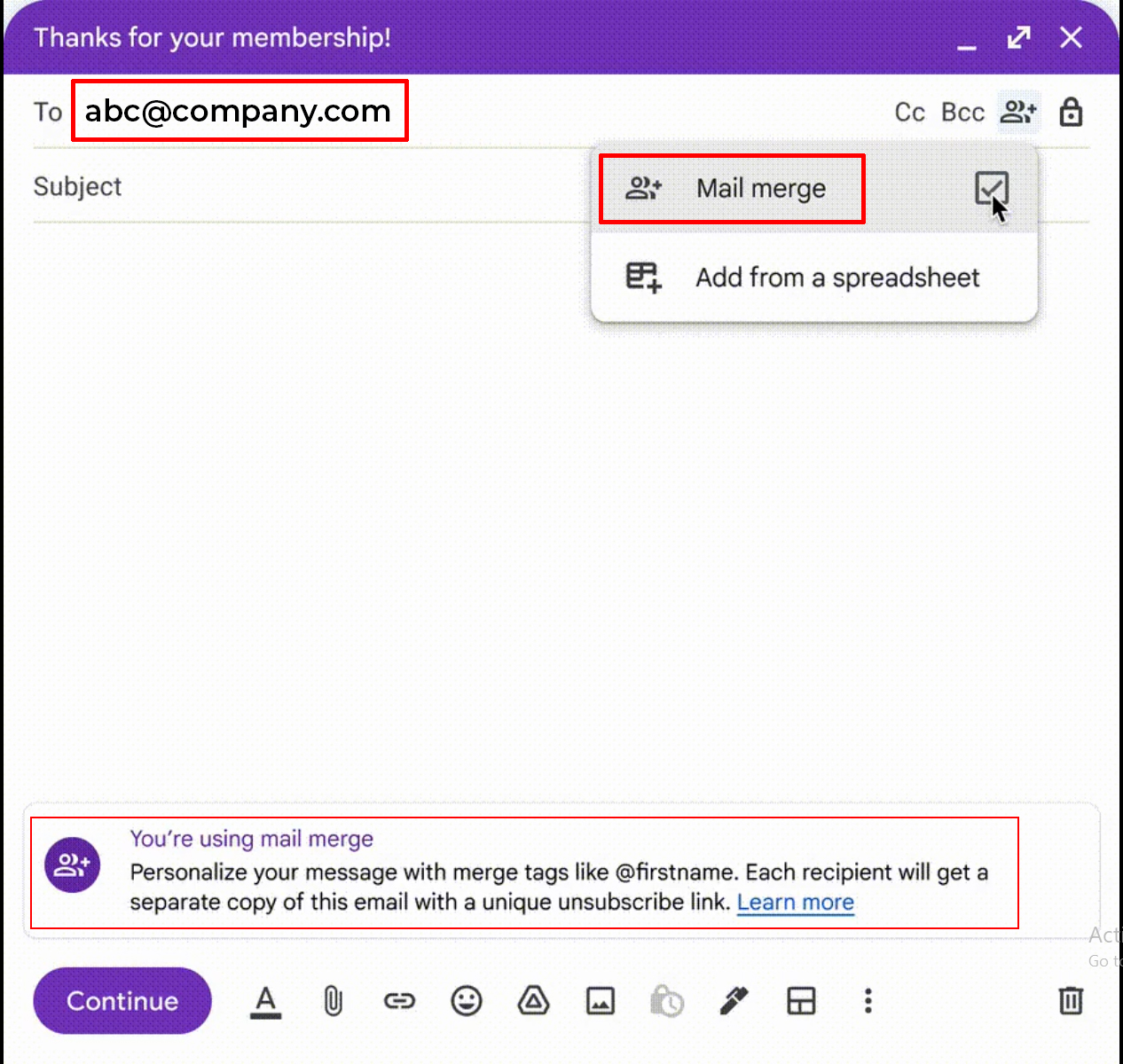 In your message, enter "@."

Mail merge tags appear.

Select a merge tag from the list.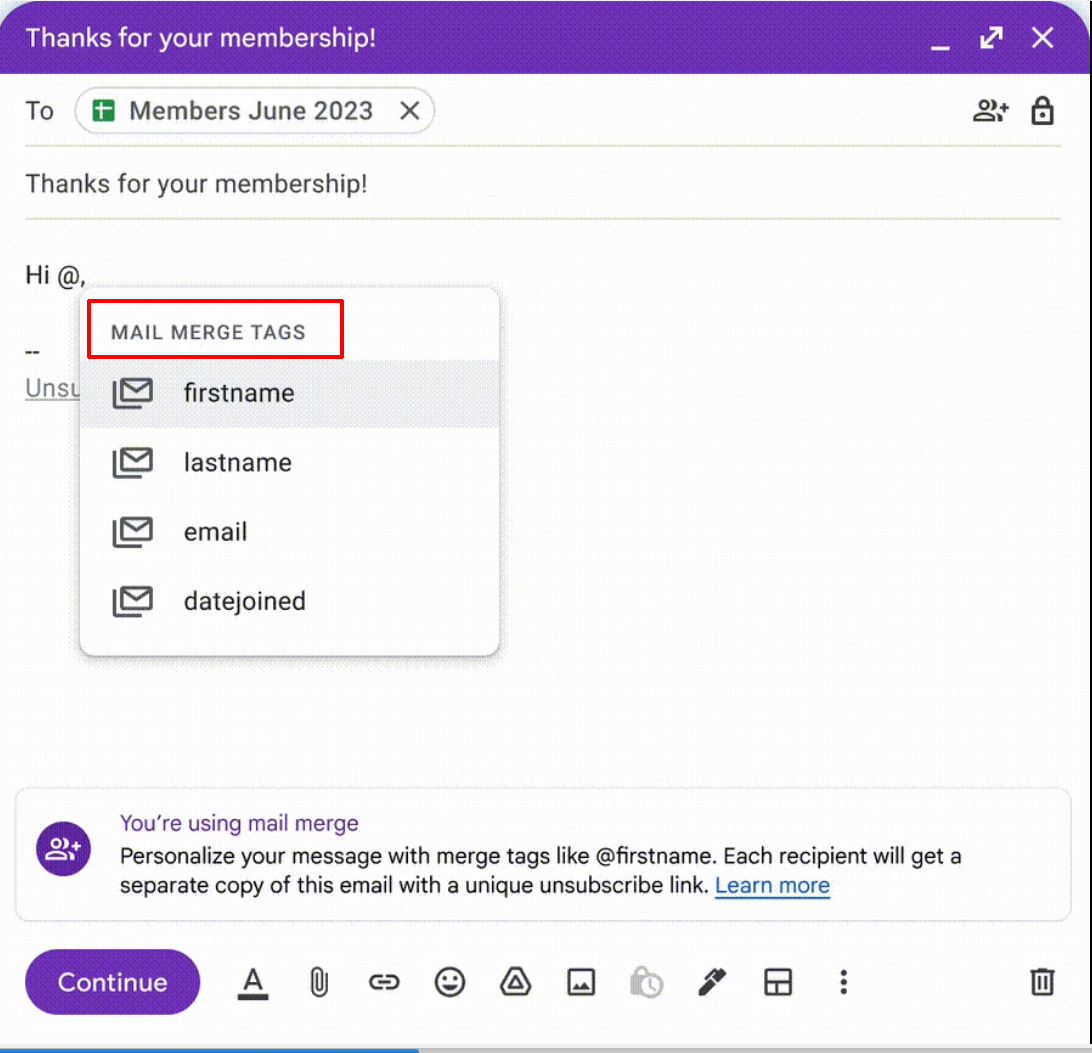 To filter the list, enter the name of a supported merge tag:

For the first name, enter "@firstname", enter "@lastname" For, Full name, enter "@fullname", Email address, and enter "@email"

To select a merge tag press Enter.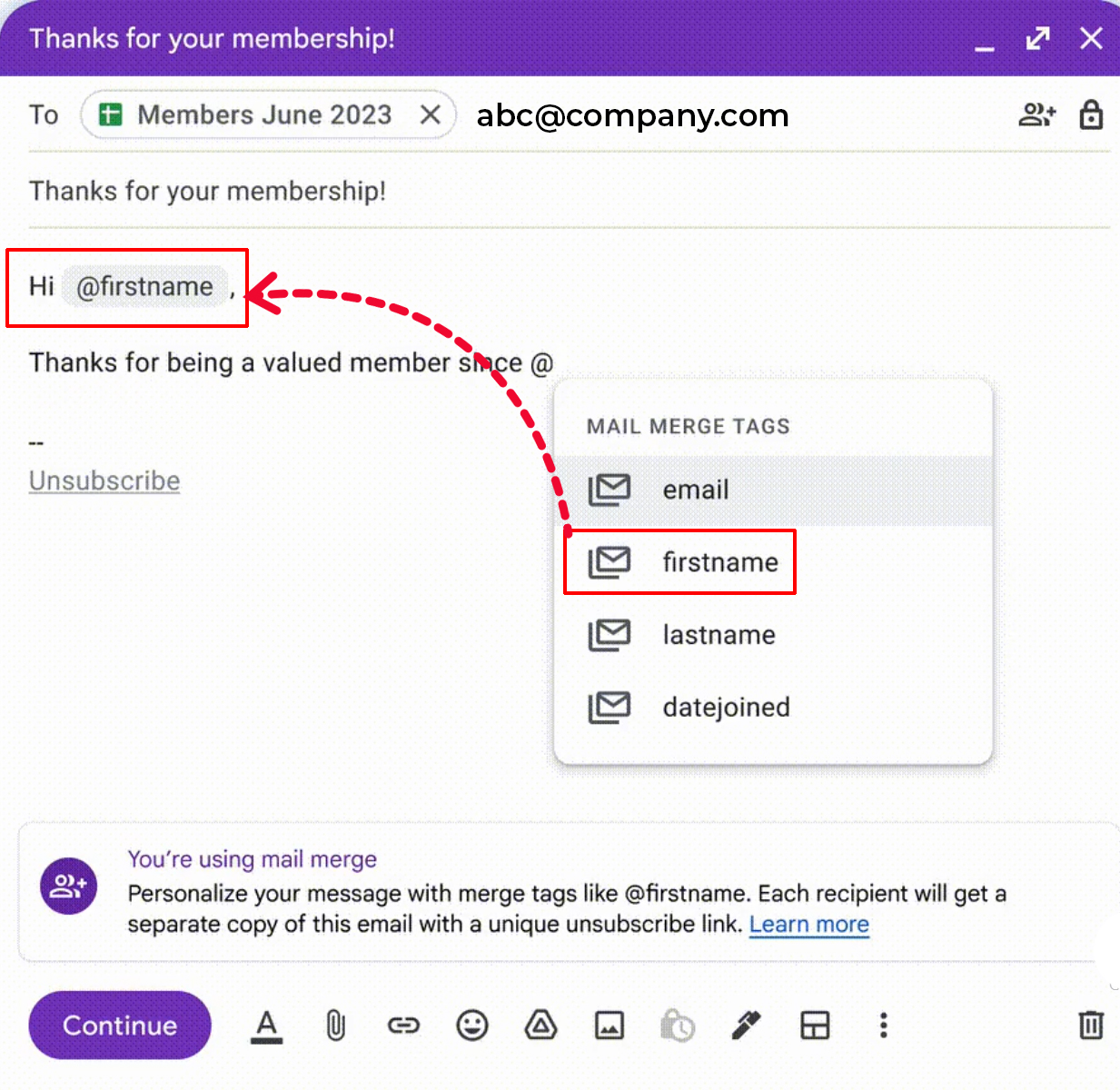 Steps to Add Recipients from a Spreadsheet
On your computer, open Gmail.

Hit Compose. (You can also open an existing draft)

Go to the "To:" line.

Click Use Mail merge.

Turn on Mail merge.

Hit Add from a spreadsheet.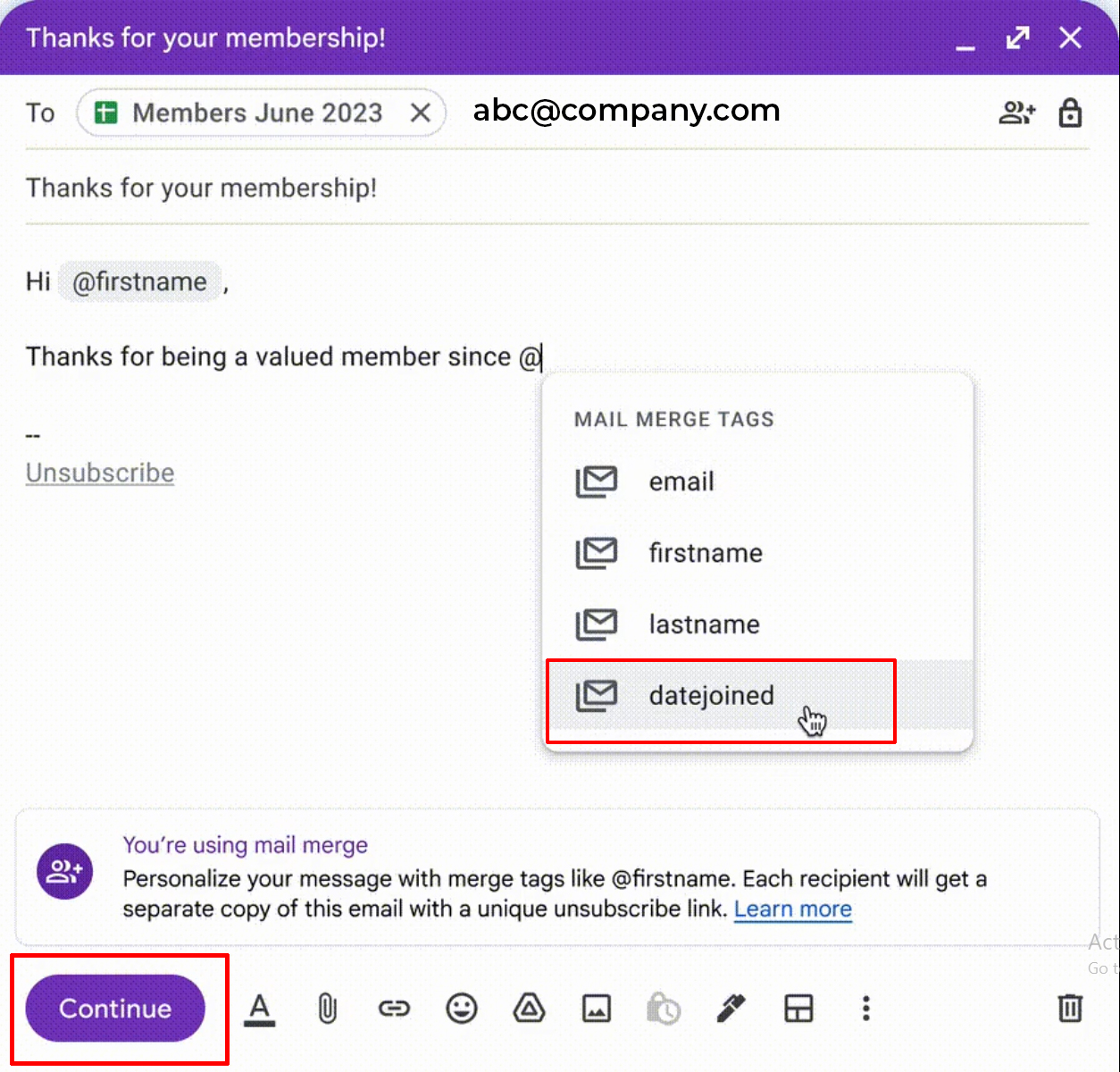 Select a spreadsheet, then click Link.

(Use the dropdown menus to select the columns from the spreadsheet to determine each recipient address)
Choose the following contact information from your spreadsheet:
e-mail

First name

Last name (optional)

Click Finish
Your spreadsheet is added to the "To:" line in the message.
In your message, enter "@."

Select a merge tag.

Merge tags are determined by the column headers in your spreadsheet.

To select a merge tag, press Enter.
Mail merge service availability
Google Workspace updates now the mail merge supports google sheets in the web version. Google Sheets integrated with Mail merge in Gmail. This feature is available to Google Workspace Business Standard, Business Plus, Enterprise Standard, Enterprise Plus, Education Standard, Education Plus customers, and Non-profits. Now this integration allows linking sheets to up to 1,500 recipients. Use any data column from the Google sheet as a mail merge tag. The mail merge icons shifted to the top right corner of the composer window.
Send limits and Mail merge limitation
You can send upto daily 1500 recipients using mail merge. Still, you can send 500 normal messages for standard Gmail accounts and a 2000 per day limit for work, school, and workspace individual limits. Mail merge is not used with the following type of messages.
Reply

Forward

Scheduled send

Confidential mode
Navohosting is one of the premium Google Workspace resellers and google cloud partners offer many services to clients. Google Workspace offers business apps for clients. Get the workspace at the offer price.
Services offered by us
Google workspace

Website Design & Development

Domain & Web hosting
To know more about the features of google workspace and Gmail check here.  Get details about google workspace business features. Know more about our digital infrastructure and other services here.