Google Workspace Healthcare Features
Google Workspace Healthcare Features are useful for hospitals.  Healthcare is a profession where the doctors treat the patients in a hospital. Google Workspace is a productivity and collaboration tool.  Various industries and businesses use it. Deploy the Google Workspace features by simply enabling them via a control panel. Nurses can use Forms to record and track patient safety incidents in Sheets immediately. The hospital's risk manager is automatically notified via the notification feature in Sheets, allowing investigations to begin immediately to improve overall patient safety.  has been great for our help desk because it gives us the ability to share documents and information in real-time, without sending emails back and forth.
Advantages of Google Workspace for healthcare
By reducing or eliminating license costs for productivity software, save annual software costs.\ Email archiving, endpoint security, and device management can devote more of its budget to patient care and less to IT systems. The drive also decreases storage costs, freeing up 6 TB of enterprise storage for other uses. Security is enhanced compared to running these systems on-premises. Built-in security features of Google Workspace, including encryption at rest for Gmail messages and attachments, files stored in Drive, and other Google Workspace content. S/MIME supports enhanced encryption to protect email in transit, and HTTPS encrypts data from devices to Google and between Google data centers.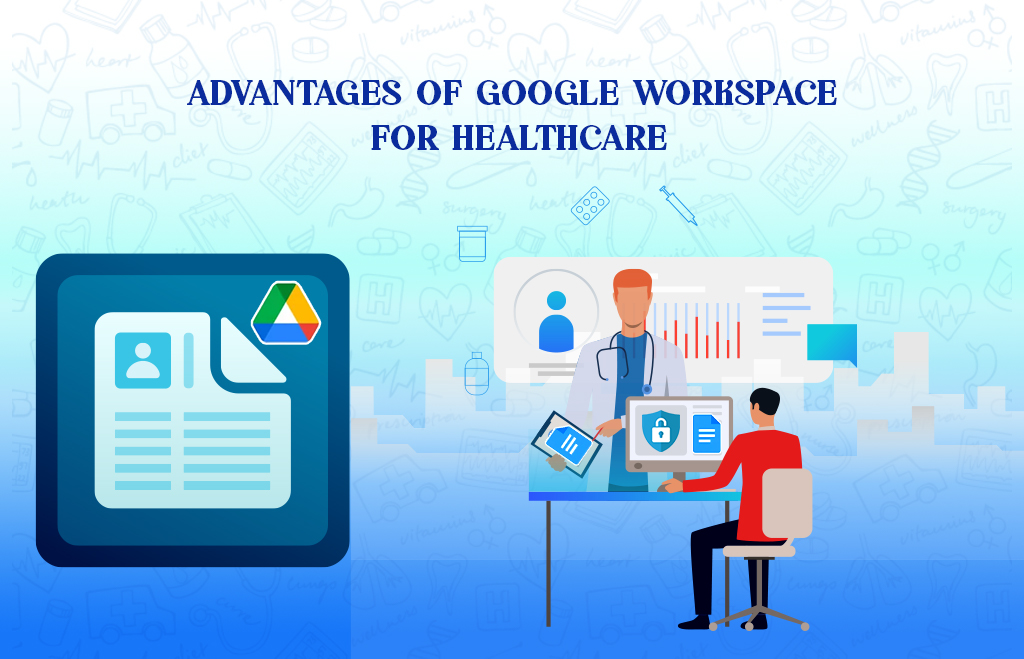 What Google Workspace can offer to healthcare?
Support the patients remotely meeting them using Google Meet. Give training to healthcare professionals anytime using Meet. If any new staff is joins the hospital, the senior doctor can give training by performing the treatment at a different location. Coordinate, and communicate with healthcare professionals. If any expert doctor is stuck at a different location they can coordinate with others and help in treating patients. Use drive and store patient details. Manage Hospital operations using the Google Workspace apps like Drive, docs, sheets, and Meet. It saves annual software costs.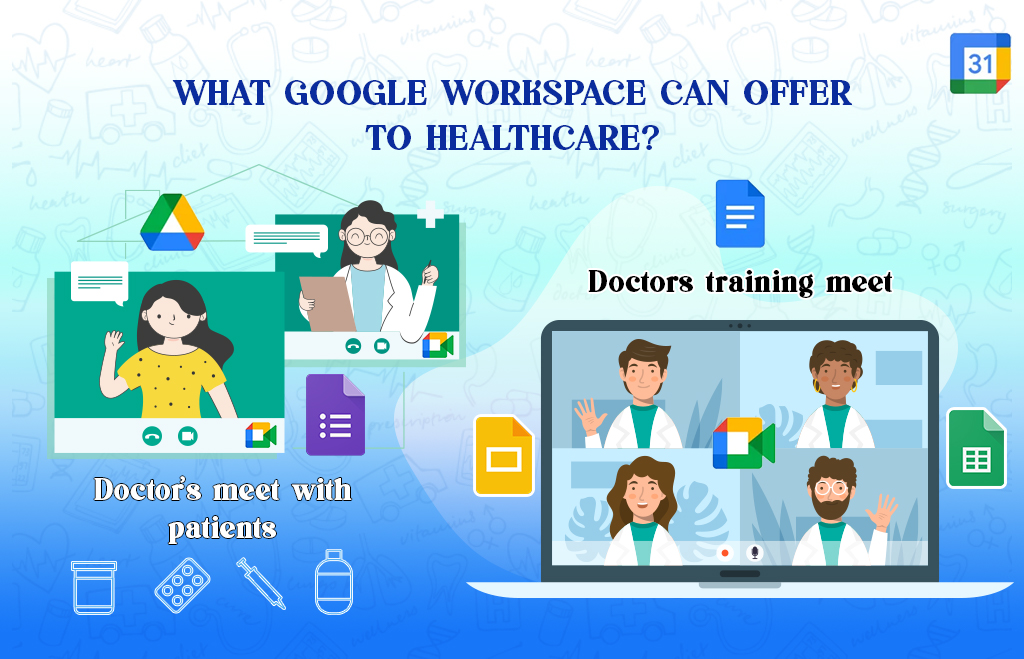 Improve patient experience
To check in for a patient appointment, patients can fill out online registration forms created in Google Forms. Responses can be sent to Google Sheets to help staff keep track of the patient queue. During the appointment, doctors and nurses add administrative information to the same spreadsheet. Updates to the sheet occur in real-time so the staff instantly knows what to share—such as follow-up appointments and reminders—with individual patients before they leave. If patients need to stay at a facility long-term, they can use Google Meet on any device to stay connected to family and friends. At the end of the appointment, patients complete another Forms survey at the Chromebook kiosk to provide feedback so you can continuously improve the patient experience.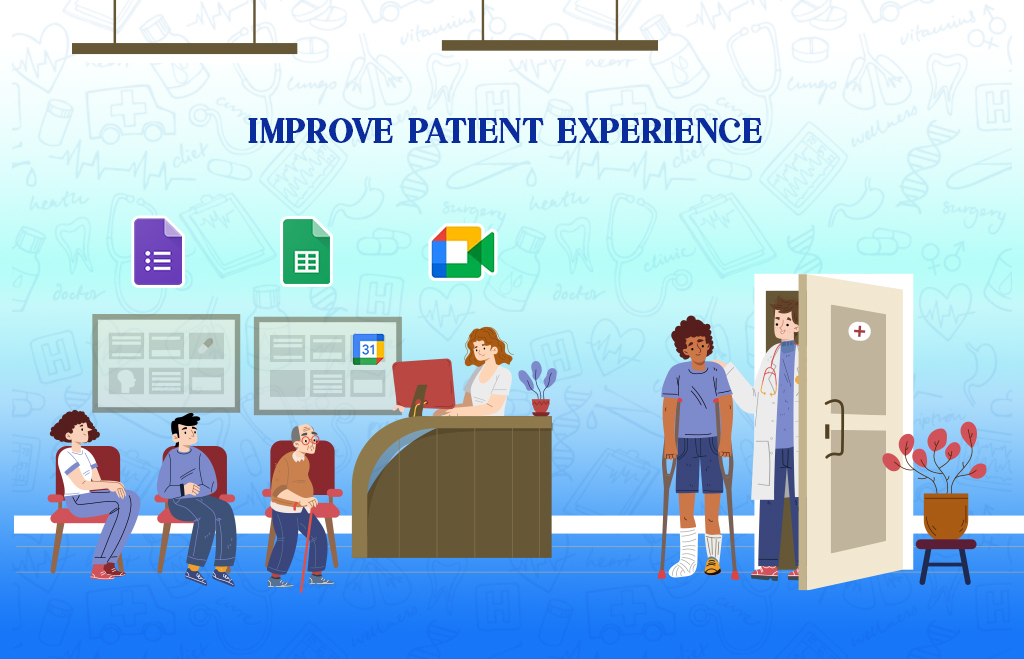 Improve operational efficiency by storing in the drive
Using Drive and Store information of patients and employees. Employees can store patient information and other documents in Google Drive. The files stored in Google Drive allow the users to share and sync files. Drive's syncing and sharing feature allows people to access, share, and collaborate on their files.  All important information is stored in a central place. Any employee or just a select group can access it anytime, from any device. Recover any patient using the drive.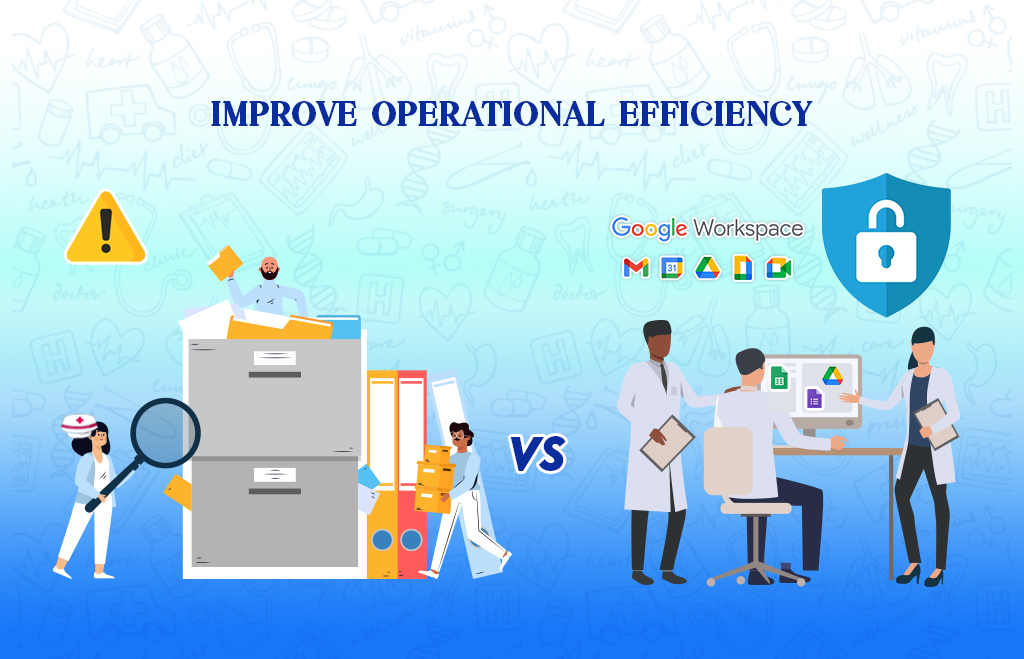 Navohosting is one of the digital infrastructure providers. We offer the following services to our clients like
Google Workspace
Domain & hosting
Website design
We are one of the premium Google Workspace resellers. Know about technical details of Google Workspace and other topics. Duet AI Google Workspace Office Productivity Improvement. If you want to know about Google Workspace and other details about our service check here.