Introduction
We have discussed the usage of  Gmail IMAP settings and  how to enable Gmail IMAP settings in the Iphone in order to access Gmail on your Iphone. Following that, today in this blog post, we are here to discuss how to Log in Gmail email addresses effectively.  These instructions are applicable to any workspace account or individual account. You need to have an Iphone with a version starting from  Ios11.
How to Log in Gmail Address in Iphone Mail With IMAP
Before proceeding that, you need to set up this settings.
Technically, there are two main ways to use Gmail email address whether it is workspace gmail address or individual Gmail address in the Iphone ecosystem.
With the help of IMAP

By using POP
We recommend the IMAP method  to utilize the  Gmail email address in your Iphone. But, you can also use the POP method too.
By using these methods, your old Gmail messages shall start to download to your Iphone and henceforth, you can access them in your default Mail App from your Iphone. Mail App is Iphone's built-in mobile app for sending email messages to your colleagues.
How to Access Gmail on your Iphone With Gmail's IMAP Server Settings
Before start proceedings, you need to activate IMAP for Gmail
The step by step instructions are given below.
Step 1: Tap Iphone Settings
Step 2: Then move on to Passwords & Accounts  and select  Add Account, then choose Google.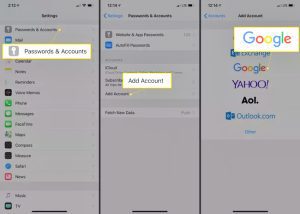 or
If you are using the latest version of Iphone, move on to  Mail and then to Contacts and then to Calendars
Step 3: Type your Gmail Address here and then opt-in Next
Step 4: Type your Gmail Password, and then opt-in Next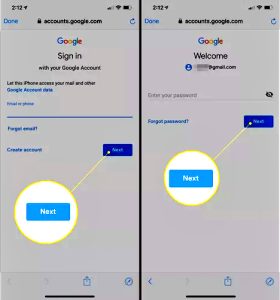 Step 5: If you have enabled two step authentication, you need to follow up the pop up window messages or else you can jump to the next step
Step 6: Then, activate the Mail toggle in order to sync it. You can also activate other elements to sync contacts, calendar events, notes and so on.
Step 7: Tap Save
How to Access Gmail on your Iphone With Gmail's POP Server  Settings
Tap  the

Settings

section  and move on  to

Passwords & Accounts

>

Add Account

>

Other

>

Add Mail Account.

Type your name, email address, and password, and  then click

  Next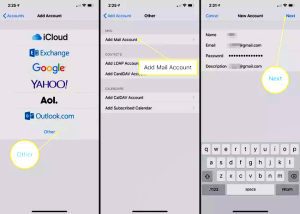 Then Choose POP

 Enter the Gmail POP server settings in the

Incoming Mail Server

option

Host Name: pop.gmail.com

User Name: Your real  email address

Password: The password of your email account

Enter the Gmail SMTP server settings credentials In the

Outgoing Mail Server

section

Host Name: smtp.gmail.com

User Name: Your real email address

Password: The password of  your email account

Click

Save

Then, Choose the added Gmail Account

Select smtp.gmail.com which can be found at the bottom of bottom of the current page  and then  top of the recurrent page

Enable  the

Use SSL

option

 Then, delete the existing number and enter

465

in the

Server Port text box and tap Done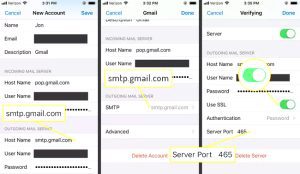 We are also Google's official reseller and so we can offer you Google workspace professional email accounts at an  affordable price. We also serve you with web designing services.