E-commerce Website Development
Over the past couple of decades, E-commerce websites have become an indispensable part of our daily lives. Apart from socializing, working, infotainment, and research, one of the fields where the Internet has turned the tables is shopping. An E-commerce website is the order of the day.
We currently have a generation of young adults who don't have any experience of a world without the Internet. As compared to previous generations, this generation and the following ones have more purchasing power, which is and will accelerate the growth of e-commerce. Around 43% of consumers utilize the Internet and various social media platforms. They get detailed information about a product before making a purchase.  The e-commerce revenue of the US is predicted to be $476 billion.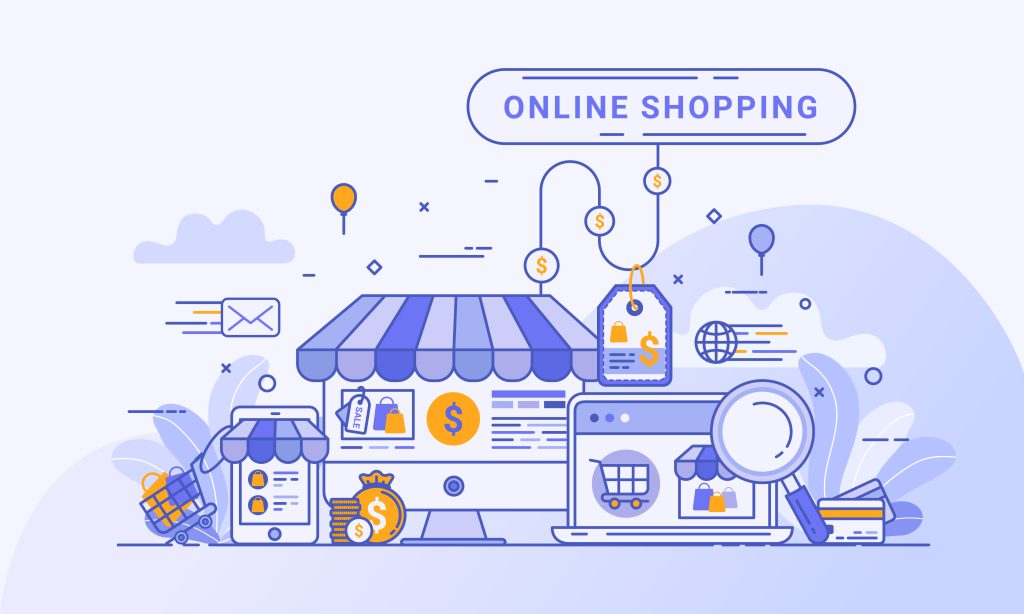 With such stats in front of us, it has become quite clear that remaining offline is not an option anymore if the retailers want to target their clients. With an E-commerce website, retail businesses can easily target untouched markets while gaining the must-required resiliency which is not possible with traditional brick-and-mortar stores. Starting an ecommerce store gives you complete control. So, if you have initiated your journey toward creating an ecommerce website, certain points should be kept in mind. Let's check them out one by one:
Selection of the Right E-commerce Website Platform
It is critical to have the right ecommerce platform that is in sync with your brands' and products' requirements. There are three key ecommerce platforms, with different functionalities, to choose from, and their selection highly depends on the kind of business you own.
Open Source: These open-source platforms offer the source code free of cost. It is easy to install and customized according to your requirements. However, it requires advanced coding expertise to manage an open-source ecommerce platform and there are security issues as well.
SaaS: The E-commerce platform known as SaaS is available as a subscription. Usually, SaaS platforms are highly scalable, easy to use, and advanced security. These platforms can easily handle processes like payments and checkout. With SaaS platforms, pricing is the key concern as there is a monthly fee, add-on expenses for different plug-in apps, and transaction fees. 
Headless Commerce: In headless commerce platforms, you have the flexibility to keep CMS, PWA, DXP, and other such technologies on the front end with the main ecommerce engine in the backend. With headless commerce platforms, you have complete creative control, thus leading to ease of marketing at lower costs.
Selection between Website Builders & Developers
An E-commerce website is similar to your business card; thus it is vital to make a smart selection between website builders and developers.
Website Building with Website Builders: These website builders are simple tools that help you to create a website without any manual code editing. Programming expertise is not required. With its drag-to-drop, intuitive editor, you can easily create a website with a customized layout. You can further make it responsive while integrating with other ecommerce tools and social media. Some of the popular website-building tools are Squarespace, Wix, Elementor, Weebly, etc.
Hiring a Web Developer: If you are planning to hire a web developer, your ecommerce website will be created in a highly professional manner. Web developers spend ample time understanding your business and its requirements to create its online replica that would help you achieve the desired business goals. 
Costing Involved
Several factors play their respective roles during the developmental process of an E-commerce website.  no standard cost applies to all ecommerce sites. Based on the business requirements, the pricing varies. 
Development Charges:
If your's a small business with a limited number of products that you want to sell, then you can easily work with a basic ecommerce website with limited functionalities. However, if you look forward to, a highly customized website, with personalized shopping preferences, various features, user registration, and a wide range of products to sell, then here we are talking about a high-end website that may cost you at least ten times more than a basic ecommerce website. 
Hosting Charges:
In hosting, you have different options to choose from. You can either for managed hosting where a hosting firm hosts your website while taking care of glitches or updates. Though a bit expensive, it leaves you free so that you can focus on core operations. Shared hosting is cheaper but it lags during increased traffic. It has fewer customization options. 
SEO Charges:
Creating a website isn't enough; regular optimization and maintenance are equally important for which you require expert SEO services. Good SEO strategies can bring more traffic to the website and, thus more leads. SEO services include various other aspects such as content, data analysis, etc. Now, the pricing entirely depends on which services you opt for and how large your website is. 
Transitioning from an offline store to its online version can be a cumbersome task. With so many technicalities involved, you would want to have a one-stop solution or an expert like us as your digital partner. With dedicated teams for every phase, Navohosting makes the journey toward an ecommerce website a cakewalk. Be it the ideation of your dream website, designing and development, hosting, and maintenance, we have everything sorted for you.