Introduction 
Google workspace includes cloud-based applications online. Google docs are an online word processor application present on the cloud. There are many real-time applications found in the google docs. Smart chips, Building blocks, and place chips are inserted into the google docs. Google's workspace was updated frequently to adapt to the new technology. Get the updates from google workspace and improve office productivity.  Here is how to insert smart chips, add date chips, and building blocks, and place chips are given.
Insert Smart Chips in Docs
Smart chips include information about users with Gmail or workspace email addresses, docs, sheets, slides, dates, google calendar events, places, and map directions. When you use the smart chips in your document hover or click on a chip to get more information.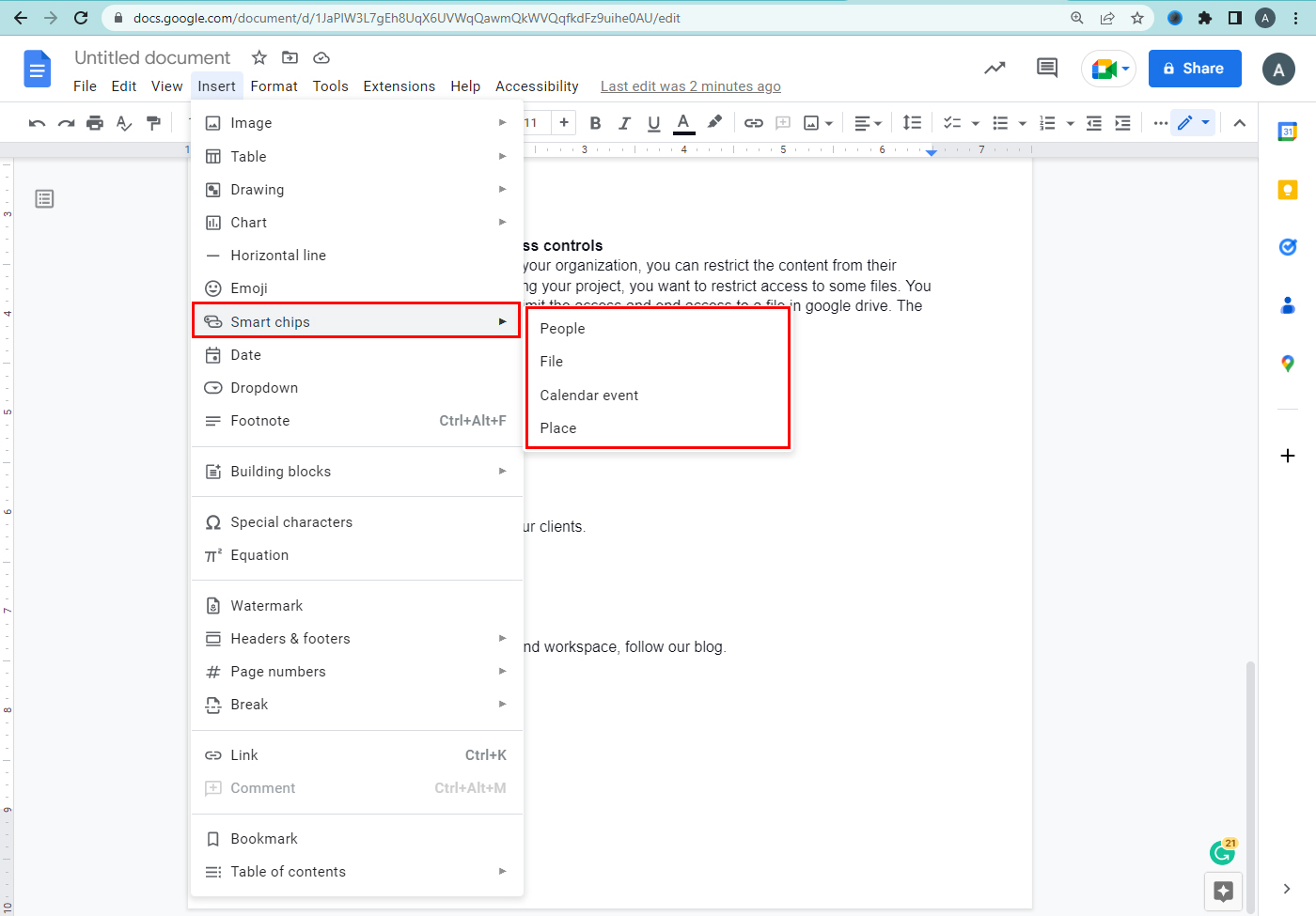 How to add smart chips  
Open a google document.
Type "@" in a document.
Select the list of suggestions / enter letters/numbers/symbols.
How to add a date chip
Open a document.
Type @today/ @tommorrow/ @yesterday/ @date
To add the date chip
Click the text field.
Click the settings.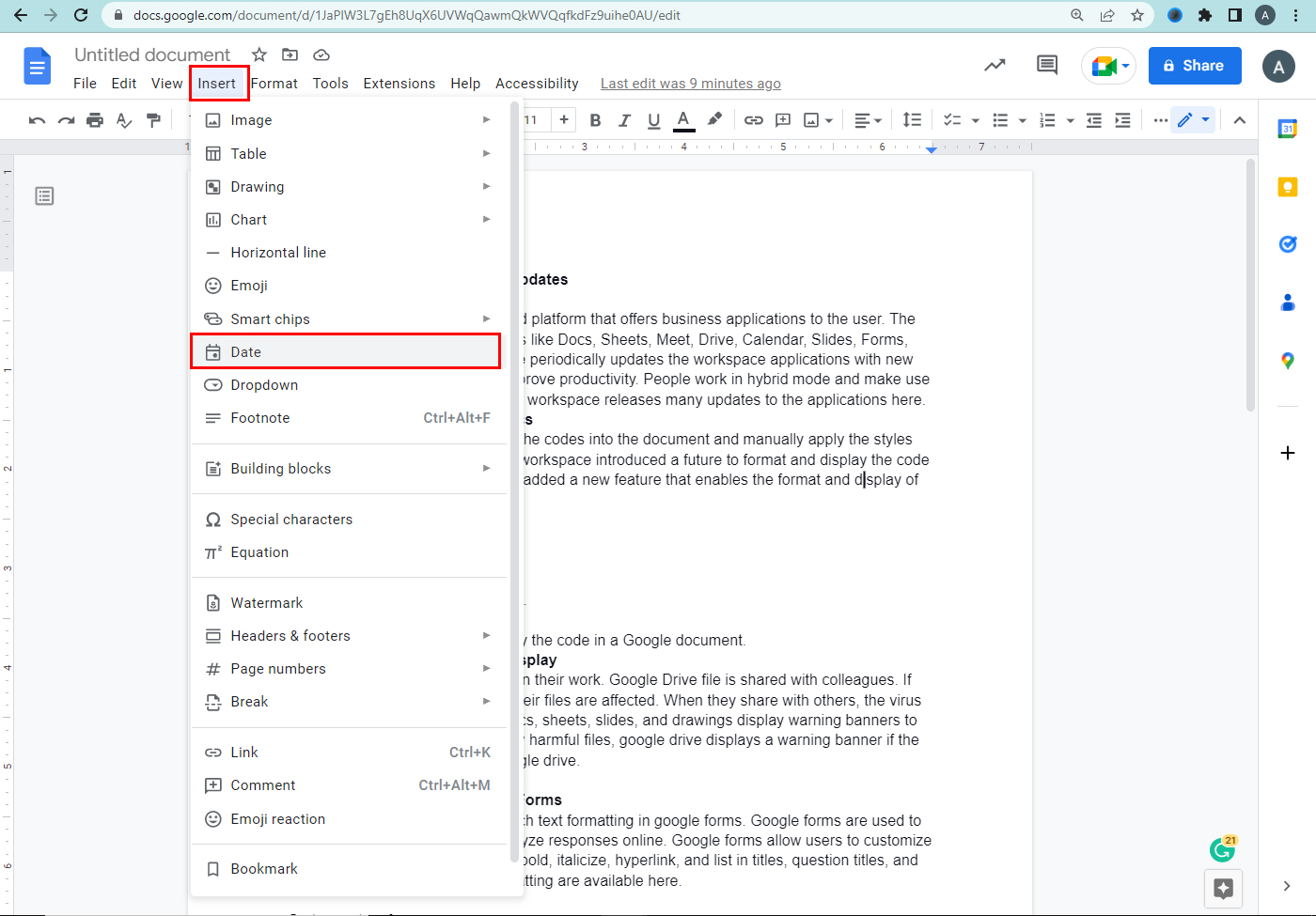 Use building blocks and dropdowns in docs
The building blocks consist of options like meeting notes, email drafts, code blocks, product roadmap, review tracker, project assets, and launch content tracker. Drop-down chips added and customized in google docs. The drop-down chips display multiple options. The options in
Add a Building block
Open a google doc.
Click Insert.
Go to Building Blocks.
Or
Type "@" Next to the building blocks.
Click the more option.
Select the building block you want.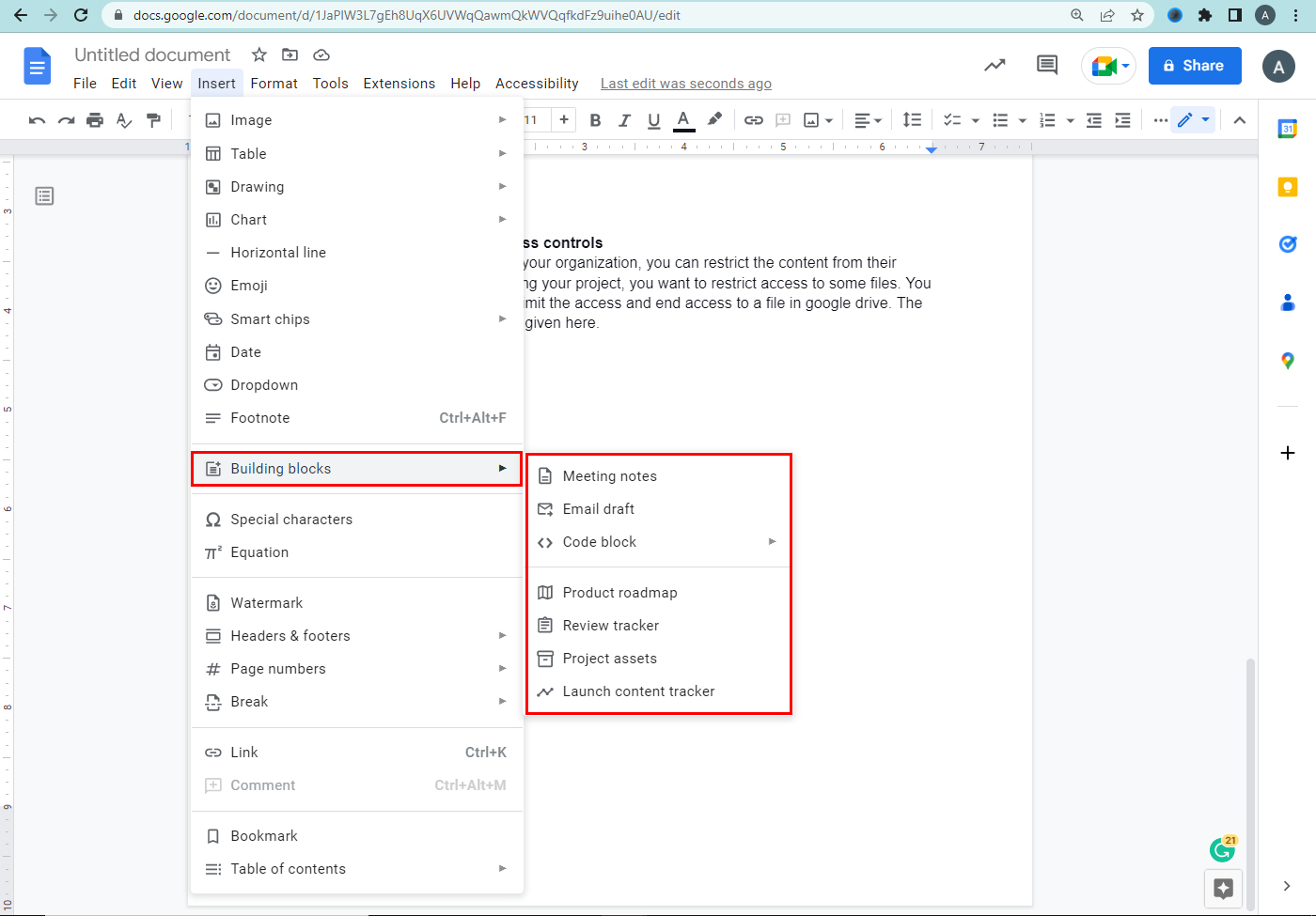 Add or edit a dropdown
If you create a new dropdown change the dropdown template name and edit options before saving. To make a change in a  dropdown, click the dropdown and hit the add / edit option.
Open google docs.
Type @dropdown.
Press Enter.
Click Insert.
Go to the dropdown.
Or
Select a preset dropdown / click the new Dropdown.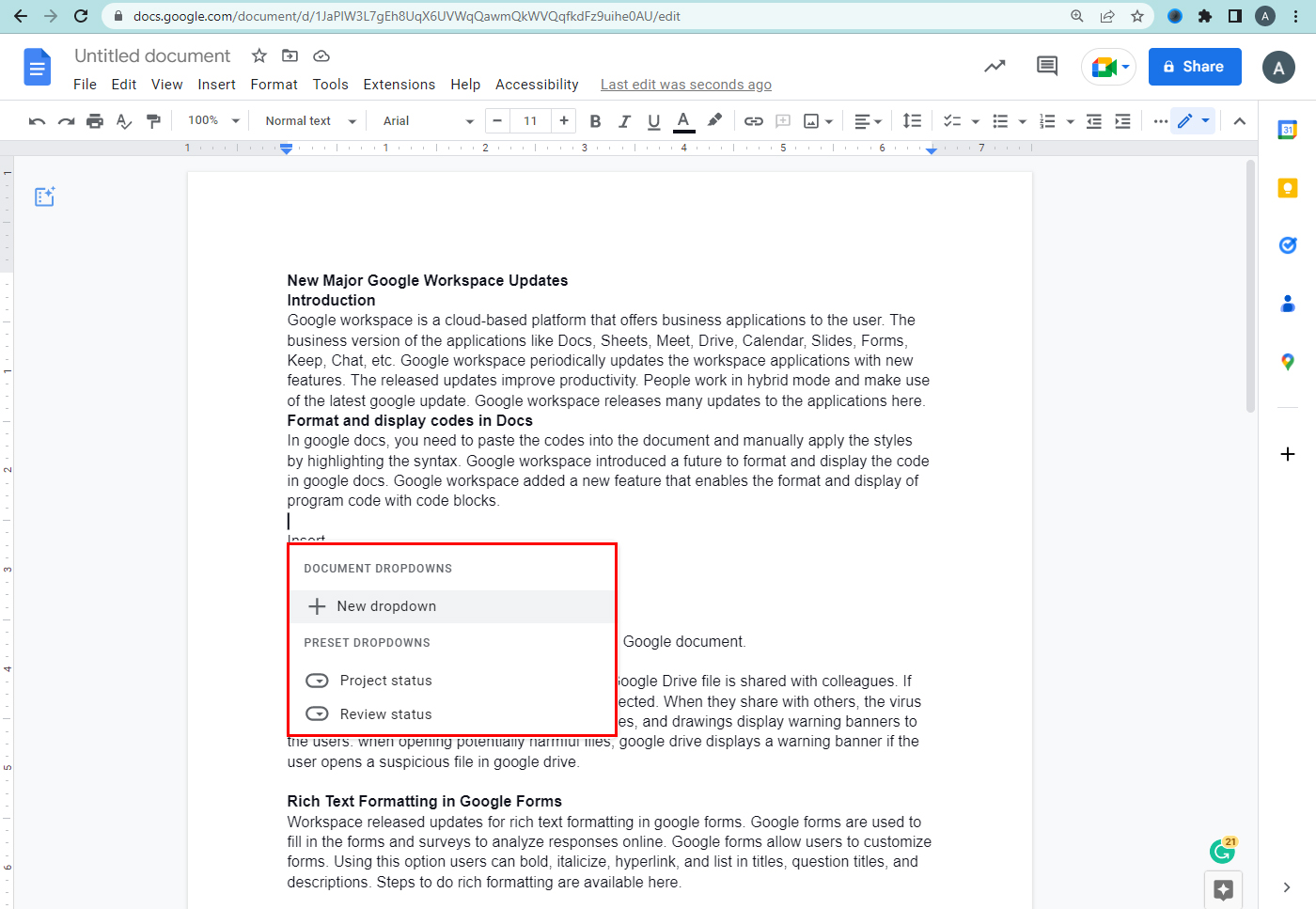 How to insert place chips
Place chips are used to place in google docs. Anyone can quickly open locations in google maps, view the locations in the google map side panel, and find the directions to the location. If a place chip is placed in google docs, you can open the location directly in google maps. Previewing the location, and finding directions are the other applications.
Steps to place chips:
Open a document in google docs.
Go to insert.
Find smart chips.
Go to the place.
Type "@".
Select the option to create the place chip.
Find and Replace option in Docs
In the office application, we will write a document, and later we need to find a word. We can also replace a word in the word document.  The shortcut to search within a file using 'ctrl+f'.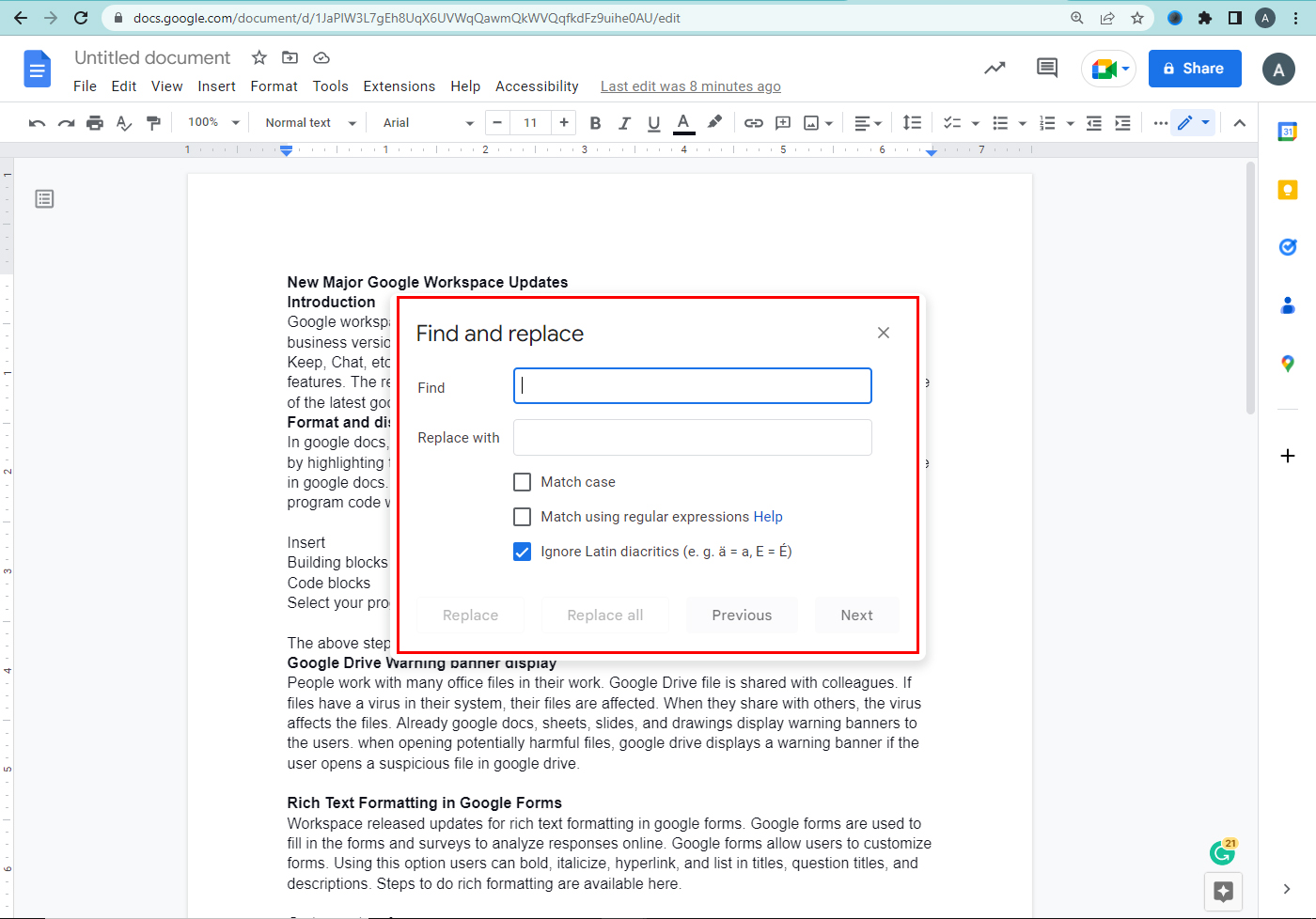 How to use the find and replace option
Open google docs.
Hit more.
Go to the Find and replace option.
Type the word.
Hit search.
To replace a word go to Replace option.
or
To replace a word every time go to Replace all option.
Click done option.
Hope the google updates related to the google workspace are useful. We offer many services to our clients like google workspace, domain & web hosting, and web development, social media marketing. To know about our services check here.